We create apps
for businesses, small & medium
30+ software engineers with 10+ yrs of solid experience
to work on your projects
UI/UX Design
We combine UI/UX design with GIS experience and build apps that scale.
Web/Mobile Apps
Way more than just good coding skills, our experience makes us stand out.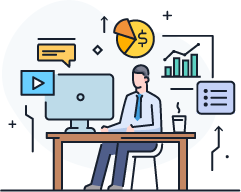 Backend Tech
We build cloud software, ensure it integrates well with legacy systems.
Projects that we are working on
enrol is a collection of tools for savvy business owners. It is comprised of AI chat, Email campaign, knowledge base, and web process engine. Create your chatbot.
AVLView helps vehicle owners automate their everyday fleet operational tasks. It's engine is built on the NoSQL backend, it is remarkably scalable with elegant UI and functionalities.
Technology Stack - Framework
and languages we use in our projects
The user interface is simple and easy to use. And the application and report provided are comprehensive and extensive.
Galvin Lian
Connect4car Pte Ltd., Singapore
We did extensive research, evaluated many vehicle tracking systems before choosing AVLView.
Fergal Walsh
Rezayat Sparrow Arabian Crane Hire Co Ltd.
Our team
is your team
Meet the innovative, driven and creative individuals who
power product development at MapView.
Join us to build extraordinary products. Job openings
"Fleet Management Software is easy to handle"
We would love to
hear from you
Ask us anything, we'll respond as soon as possible.